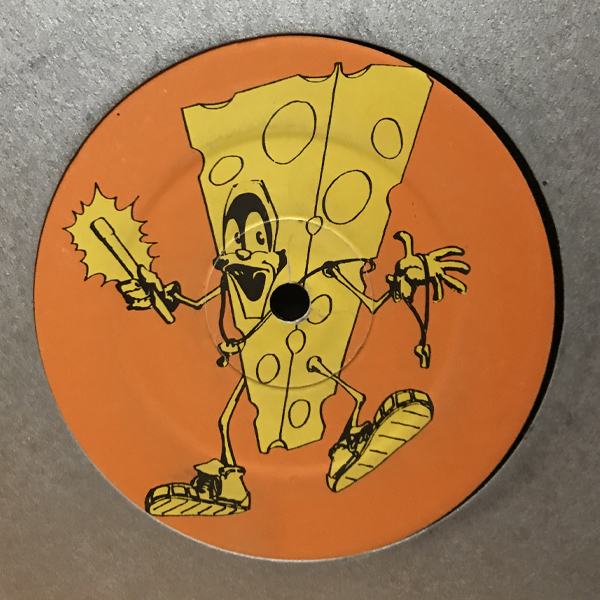 I hated this record by the time it came out, when Jeff told me that due to confusion at the pressing plant they had pressed 1000 copies instead of 500 I was most upset, but of course it was a hit.
I disliked it so much that I actually recorded over the original master dat when we were parked in Portugal, sourcing dat tapes on the road was often tricky if we were parked in remote places and some of the tracks we find here are taken from the original vinyl.
I don't know why I disliked it so much, but I remember I felt embarrassed about the snoring song, I had thought that a sample of a snore would sound like a Bassline, but I think we can all understand that it doesn't. The recording was not actually anyone I knew, but sampled from a dub record.
Image
Name
Price
Listen
Buy

Acid Cheese 3 - A1

€

1,00 –

€

1,50

Acid Cheese 3 - B1

€

1,00 –

€

1,50

Acid Cheese 3 - B2

€

1,00 –

€

1,50
The B Side which is a long Improvised track using the ROLAND 303,909 AND SH02 and probably the bass station synced up with CV and Gate, made it into Tsugi magazines top 10 underground tracks listing in their free party edition.
In A1 we here the sound of a Tequila glass being slammed and the words "Alright you scum, what do ya wanna drink ?"
The artwork which was rather different from the usual Spiral black and white style was drawn by a friend of Ben and Sasha in the U.K.
DISCLAIMER – The tracks here are actually wrongly labelled in the player (I told you it was confusing) THE THIRD TRACK SHOULD ACTUALLY BE A2